Shopping for home needs is more EASIER with Lazada. I can shop while doing the household chores or even while relaxing after work.
I need not to worry because the product I buy will be delivered right to my home!
Actually, I usually take advantage of the FLASH sale that Lazada offers from time to time. It helps me save more for other shopping needs.
Currently, I am in need of a 3-piece non-stick frying pan and I found one at Lazada for only P799.
I also find the Ceramic Knife and Peeler with Stand so cute and colorful and it costs only  P490.99 (this is 73% off). Great savings, eh.
Daddy's eyeing for shoe rack with price ranges from P256.00 to P399.00.
There's so many thrift finds at Lazada!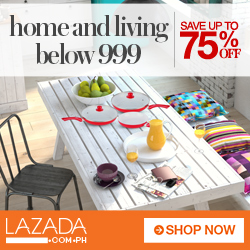 For more HAPPY shopping try LAZADA's BLOW OUT SALE up to 70% OFF