I was browsing online and searching for a gift to give my father this weekend. I thought for a watch, I've seen in Franc's post and that pair of running shoes.
But, I remember the GoPro I've seen at Lazada. It's perfect for Dad's adventure coz he loves traveling.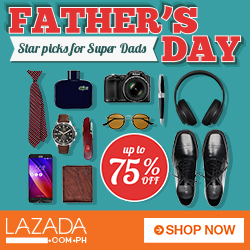 While meticulously searching the web, I chanced upon these cool Father's Day videos. So, I think of sharing these with you guys!
How about some pranking with Dad?
I'm pretty sure making crafts for Dad is more fun.

Cool and crafty kids!
I have found a gift for Dad and I have to finish my online transactions, so I just wish you ALL a HAPPY, HAPPY FATHER's DAY!